Top Things to do in Cappadocia, Turkey
I think at the end of this post you will agree with me when I say that Cappadoccia should definitely be on any traveller's bucket list. There is something about this unique place that keeps tourists coming in, sometimes booking a trip to Turkey solely to see Cappadocia. This fantasy land was formed over years of volcanic activity, which created the interesting caves, valleys and huge rock pillars. You have probably seen all the amazing sunrise images of colorful floating air-balloons, but the area has so much more to offer.
Here are the top things you should do in Cappadocia:
1. Hot Air Balloon
Before sunrise hop in a hot air balloon and watch how everything comes to life. Most of the companies offer complimentary pre-flight breakfast and a glass of champagne at the end of the flight. I couldn't think of a better way to start the day!
If you are scared of heights, watching the colorful balloons from a distance will be an amazing sight as well. Maybe you've noticed all the beautiful pictures on Instagram with people relaxing on colorful pillows, enjoying their breakfast with a sky-full of the famous balloons. Well search no more, you can have a similar experience at Sultan Cave Suits.
2. Fairy Chimneys
Visit the Fairy Chimneys in the early morning or late afternoon, to avoid the heat and tour crowds. These odd chimney shaped, balanced rocks were created by the varying levels of erosion that occurred in the different layers of rocks. When I say balanced rocks, I really do mean they are barely balancing (some of them).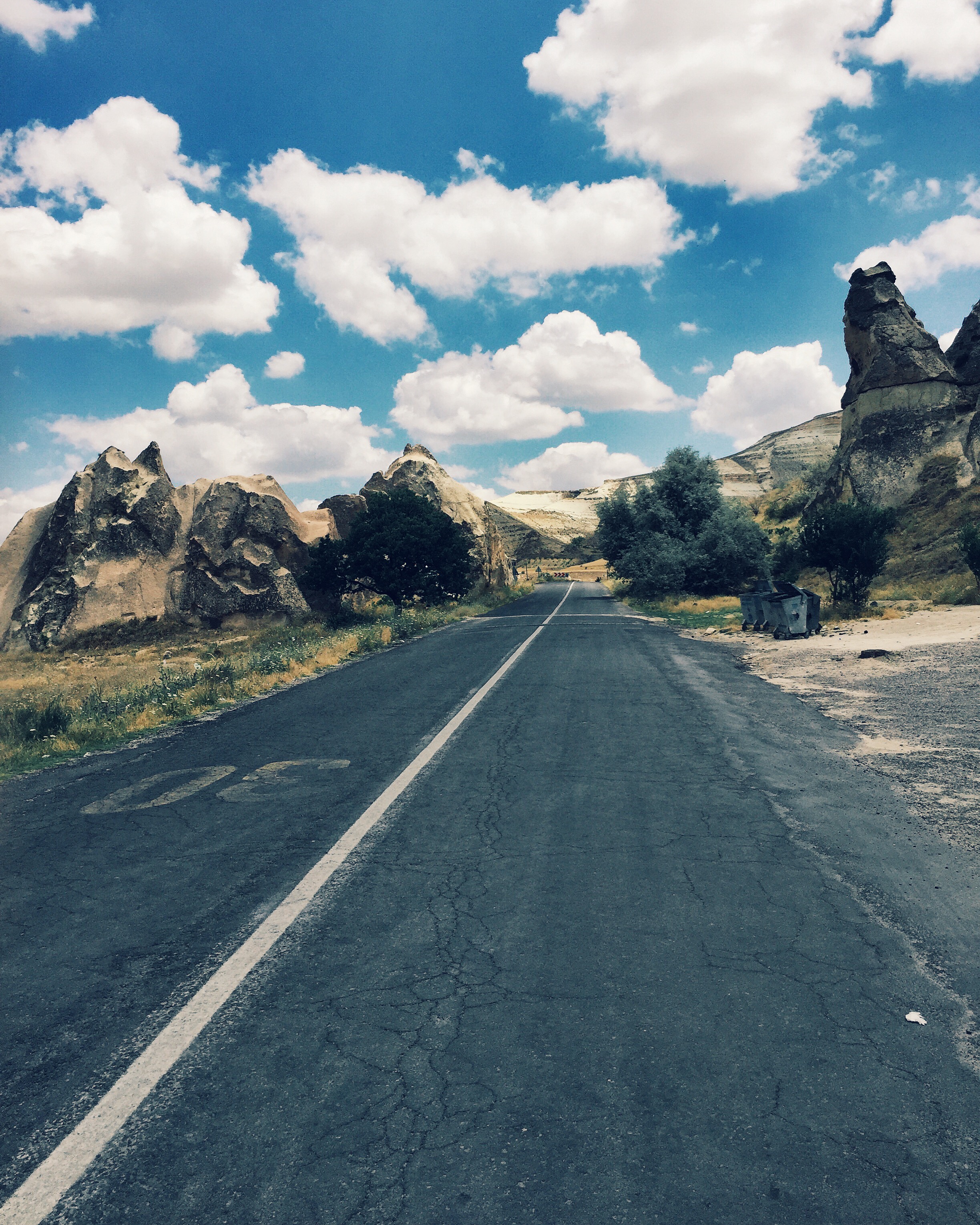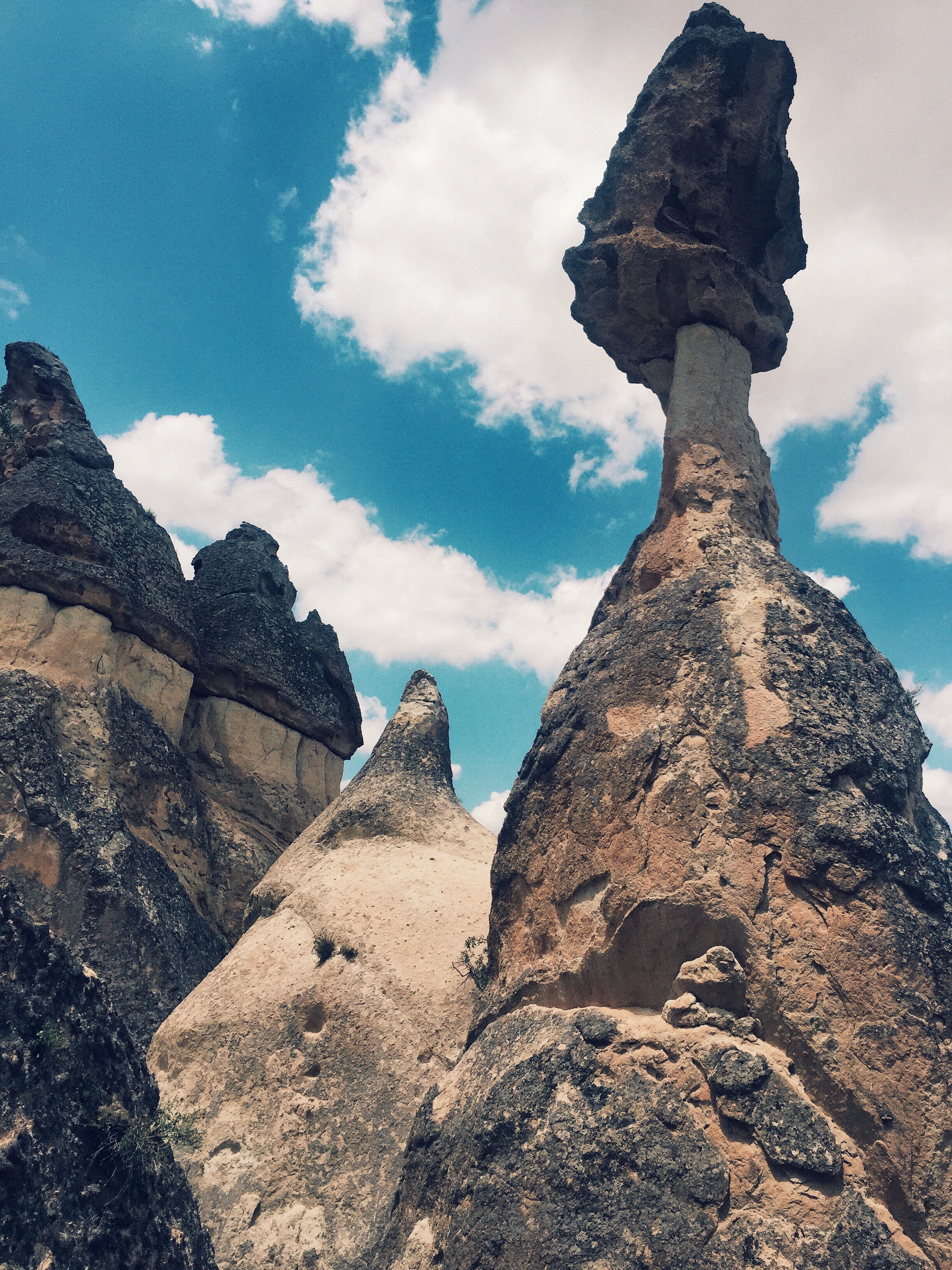 3. Cappadocia's Underground Cities
When the temperatures rise, you can cool off by exploring Cappadocia's underground cities. These were built by the early Christians to avoid the persecution of the Roman Empire. There are over 30 caves to choose from and Derinkuyu is one of the biggest ones. You can see remains of schools, chapels and stables, that will give you goosebumps.
4. Red Rose Valley
Trek the Red Rose Valley before sunset and then find a high spot to enjoy the colors of dawn. Its name comes from the colors it goes through depending on the position of the sun.
5. Zelve Open Air Museum
Experience the real life of the inhabitants who used to live here decades ago, by visiting the Zelve Open Air Museum. Take a tasty break and try gözleme and börek (stuffed pastry, filled with potatoes or cheese).
6. Goreme Open Air Museum
Visit the cave churches at the Goreme Open Air Museum. Do not miss the Dark Church, it is truly majestic.
7. Pigeon Valley
Climb up to Pigeon Valley and admire the sweeping views of Uchisar – a town build around a fortified castle. Its sloping hillside hosts one of the most luxurious restaurants and resorts.
8. Uchisar Castle
Get lost in the hidden passageways of Uchisar Castle, until you find your way to the top. There you can capture amazing pictures with the best panoramic view of the whole Cappadocia Region.
9. Evil Eye Trees
Visit one of the two evil eye trees and leave your mark by tying a charm on the tree. With hanging blue amulets the tree is said to ward off harm. You can find these charms everywhere in Turkey, as they are a tradition that Turks take seriously.
10. Workshops and shopping
Handmade jewelry, colorful pottery and rugs, you can attend workshops for all of them and get some souvenirs for the loved ones.
11. Kocabag Winery
Visit the Kocabag Winery and try some of the most delicious Turkish wines. They also have a small vineyard you may want to visit to see the grapes and how the process works.
Where to sleep
You should definitely stay in a cave hotel, built into the landscape of Cappadocia. Is there something "cooler" than having your own cave? Thankfully, you can find affordable ones as well, because even hostels are built inside them.
Budget
Cave Hotel Saksagan – a family run hotel, with rooms carved in rocks and decorated with Turkish furnishings. Terrace and garden. Breakfast included.
Midrange
Doors of Cappadocia Hotel – all the unique rooms are carved into the rocks. The terraces have beautiful sunrise and sunset views and a pool. Breakfast included.
Top-end
Sacred House – this luxurious hotel won Best Renovation and Design for Boutique Hotels award in 2014. Every room is tastefully designed and comes with equipped with all the necessities. There is a library and a spa.
Where to eat
Turkish food is simply delicious. Each region has its own cuisine and you will not be disappointed in Cappadocia. One of the signature dishes is mantı, small pasta packets, usually stuffed with meat and served with a tomato or garlic sauce.
Some of the best spots are:
Breakfast @ King's Valley breakfast tour
Although most hotels include open buffet Turkish breakfast in their room rates, it is worth trying this breakfast experience offered by Kelebek Hotel. Every product is organic and of locally produced.
Lunch @Seyyah Han Restaurant
Enjoy some humus and other various starters on hot baked bread. Also worth-trying - the slow-cooked lamb.
Dinner @ Sakli Konak Restaurant
Try their delicious pottery kebab – a delicious beef stew cooked inside a clay pot for five hours.
Bonus Trips
If you rented a car and have a few more days to spare, there are some amazing natural places worth visiting around Cappadocia.
Sultan Reedy National Park is located around Lake Yay and is a well-known bird sanctuary.
-80 km-
The Aladaglar National Park is famous throughout the country for its extraordinary trekking routes that lead to several lakes and limestone ranges. It is a great way to explore Taurus mountains.
-115 km-
Salt Lake is the biggest salt source of Turkey. During summer time, the water level is couple of cm deep and so it creates a beautiful mirror effect. If you're lucky you can catch some flamingo sights or the pink water created by algae.
-147 km-
Step into and experience this fairy tale that is Cappadocia and leave with a lifetime memory. I hope you are already checking flight tickets :)