Sao Miguel Island - The Hidden Jem Of The Atlantic
My excitement was scary high when I received a message from my cousin asking me to be her bridesmaid. Firstly, she was like a sister to me, we had tons of childhood memories until she moved to Spain and later on to Portugal, where she became a kick-ass veterinarian and met the man of her dreams. Pumping my excitement was also the location of their wedding - Sao Miguel, Azores Islands. If it doesn't ring any bells, you should definitely go on reading, because this is a perfect hidden gem in the middle of the Atlantic Ocean. To be precise, the Azores are composed of nine volcanic islands, located in the North Atlantic Ocean, about 1500 km west of Lisbon and 3900 km from the east coast of North America. Still untouched, still protected from mass tourism, the ultimate travel destination for adventure seekers, honeymooners and foodies.
Splish splash in a volcano crater
Now if your ideal summer retreat involves white sandy beaches and serene waters, scratch the Azores off from your list. As this wild paradise offers the exact opposite - from natural pools covered by volcanic rocks, to black sand beaches and hot springs.
Let me tell you about two of my favorite bathing experiences. One of them is the islet of Vila Franca, basically an extinct crater of a volcano, which formed a natural swimming pool in the form of a circle. We got there by boat in the early morning, as they only allow a certain number of people per day. As soon as we arrived, we were welcomed by volcanic rocks, wild vegetation and beautiful blue clear water. After choosing the least uncomfortable rock to place our belongings, we jumped in this natural pool, filled with hundreds of fishes, of all sizes and colors. It was like swimming in an aquarium. Just amazing! If you're into extreme sports, check out Red Bull Cliff Diving World Series 2012, which took place on this islet.
After this adventure packed experience, we decided to go for some relaxing hot springs. These hot bathing pools are brownish, because of all the iron in the water and their backdrop is just gorgeous, with palms, ferns and conifers of a subtropical Atlantic forest.
Leave the road, take the trails
When hiking we remained speechless several times, as each bend in the road came in with a jaw-dropping view. One of my dearest memory is from the ruins of a former 5-star hotel.
Rumors have it that this hotel was haunted and you can easily understand why. Over the years, it has been used as a horror movies set. We climbed all the stairs, with some shivers down our spines, but all worries vanished when we discovered the rooftop view.
Sete Cidades is a lake composed by two different lagoons: the Blue Lagoon and the Green Lagoon, all set in the crater of a sleepy volcano. There's also a cute legend regarding this place:
Another highlight of our trip was Lagoa do Fogo - the highest crater lake on the island. When we reached the top everything was covered in silence and the view was just spectacular. So raw and green. Still can't get that imagine out of my mind.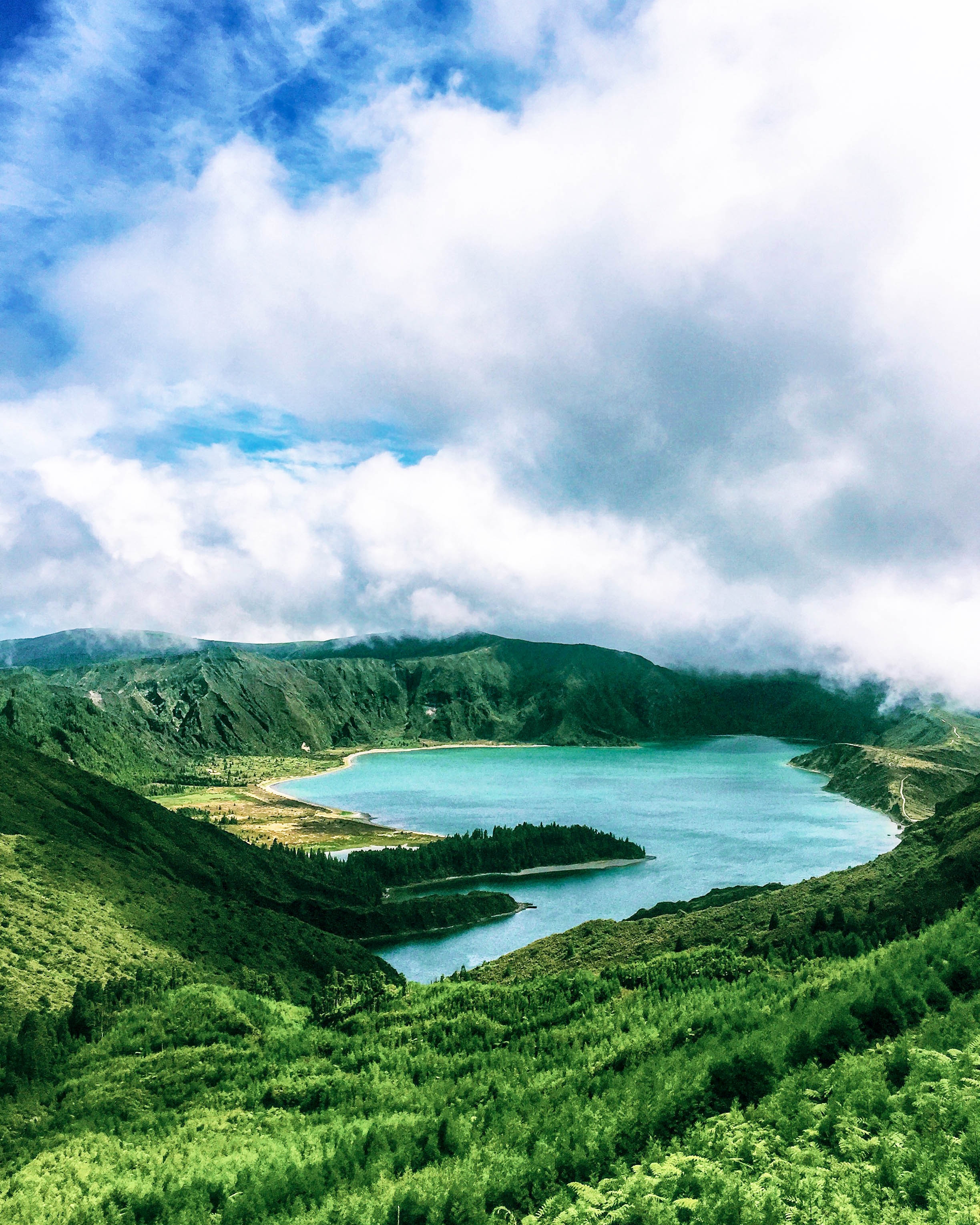 Slow cooked volcano food and other yumms
The Azores are famous for their rich and delicious cuisine. Most of the ingredients from our plates were locally produced, from vegetables raised in the fertility of the volcanic soil, to the fresh fish and happy grass-fed cows - the secret for yumm cheese, milk and beef.
One of my favorite food in there was this juicy, sweet pineapple! It takes two years in the greenhouses for the fruit to be ripe. An entire industry developed around it, as they also produce jams, liquors and cakes. I really hope you get to taste this yellow piece of heaven.
In Furnas they have this unique stew - Cozido das Furnas, cooked in the ground by the heat of the geysers for six hours. Local restaurants bring the pot of food to the geysers early in the morning and then they serve it at lunch time. Sweets can also be cooked volcano style (maybe chocolate lava was inspired from this haha).
The oldest tea in Europe
The Gorreana Tea Factory has been producing tea on the island since 1883 and has gone through five generations. We decided to stop by their factory and plantations, to learn about the process and taste some tea. Later we found out that they offer an ecological product, free of pesticides and other bleahy components. They do tend to be spoiled by nature, with middle-of-the-ocean clean air and a fair amount of rain.
More cows than people
The dairy industry in the Azores is quite impressive, as Sao Miguel is home to more cows than people. The other super duper fact about cows: it is forbidden for them to be kept in barns or to eat anything else except for grass. This is why the milk&other related products are as fresh as they can be. I don't know why I learned so many details about cows and why I shared them with you, but now you know tihihi.
Oh, the wedding!
Remember I was telling you the actual reason for coming to this green paradise? My cousin's wedding was more than I ever expected. The ceremony was an amazing mix of cultures, as she is Romanian native, Spanish expat, now living in Portugal and he is Portuguese, raised and born in Sao Miguel. Regardless of our different nationality, language and religion, we had so much fun in connecting and learning new things about each other's culture.